Who We Are
Our Firm
Dolph & Associates is a compensation and benefits firm focused on Executive and Employee Benefits, Estate & Business Succession. Our proprietary interest is to crystalize our client's financial objectives and assist them in implementing a plan to accomplish those objectives. Through our expertise, experience and unparalleled resources, we remain dedicated to providing our clientele sound recommendations geared specifically toward the accomplishment of their objectives. The asset of our client that we value most is their trust.
Our Mission
To provide business, estate and philanthropy planning and succession services to individuals, business owners and professionals based on knowledge and integrity.
Our Objectives
We assist our clients in obtaining the peace of mind they desire through our objective driven process. Our interest is helping clients achieve the following:
Protect their assets from excessive tax burdens and potential undesirable future creditors.
Pass on their hard-earned assets (including their businesses) to their desired heirs in a manner that enables them to leave the legacy they intended.
Ensure that the client's desires for charitable giving are crystallized and enabled to be continued for future generations.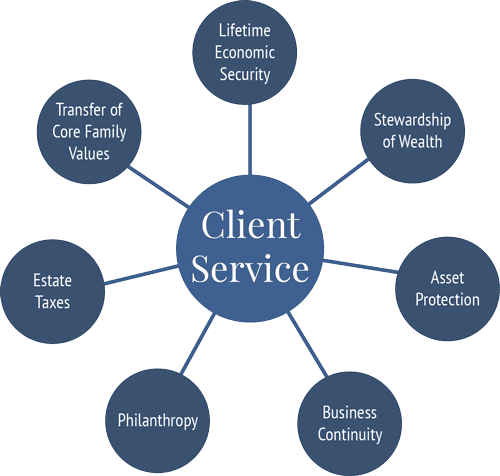 About Our Founder
Established in 1991, Dolph & Associates helps successful individuals and business owners make a personalized game plan for their long-term financial goals.
With over 30 years of experience in the financial services industry, Dolph & Associates specializes in employee benefits, retirement planning, business succession, estate conservation and asset protection planning. Our focus is on providing sound strategies and solutions that meet our client's individual financial needs and goals.
Dolph & Associates has worked hard to develop strong long-term relationships with our clients. With a committed staff of creative professionals, we pride ourselves on client confidentiality and superior client support.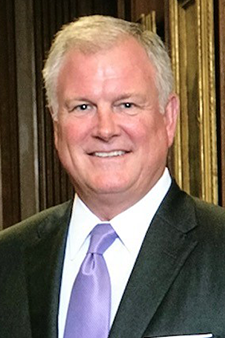 Frank B. Dolph, III
Since 1990, Frank has worked in the executive benefits, estate planning, retirement planning and business succession planning market place. In 1991, Frank founded Dolph & Associates, a compensation and benefits firm specializing in the design, implementation and servicing of employee and executive benefits planning. Frank is a Nautilus Plus Member of the Nautilus Group, a service of New York Life, that provides dedicated support in business and estate planning for a carefully selected group of financial professionals who work with high net worth families and business owners on estate, business and charitable planning objectives.
Frank has earned numerous industry and company awards. Frank is a lifetime member of the Million Dollar Round Table and qualifies consistently for Top of the Table (of the Million Dollar Round Table*). Frank is the recipient of the National Quality Award and is frequently recognized for his levels of production at New York Life. Frank was the 2018 Council Vice President of New York Life Insurance Company. Frank is a member of Finseca in Washington D.C., National Association of Insurance and Financial Advisors and Community Foundation of Broward's Professional Advisor Council.
Frank received a Bachelor of Science degree in Business Administration from Spring Hill College. He currently resides in Fort Lauderdale, FL with his wife Ellen. They have three adult children.
*MDRT is recognized as the standard of excellence in life insurance sales performance
Council is an annual company recognition program based on agent production from July 1st - June 30th.
The Nautilus Group® is an exclusive resource accessible to Member Agents working with affluent, high net worth and business owner clients. Nautilus provides a range of consultative services and technical case design to support its Member Agents in presenting estate, business, charitable, insurance and retirement strategies to their clients and their clients' advisors in these key areas: Family Protection, Estate and Legacy Planning, Business Succession and Exit Planning, Executive Benefits, and Philanthropy.
Since every client has unique requirements, The Nautilus Group® staff and its Member Agents employ an individualized case development strategy, working on a team basis with the clients' professional advisors.
Member Agents of The Nautilus Group®, through their expertise and commitment to this team approach, can provide resources, services and solutions that help their clients work with their own professional advisors to attain clarity on their financial situation and also help achieve their business and estate planning objectives.
This consultative process fosters an understanding between the client, the Nautilus Member Agent, and the client's circle of advisors. Working hand in hand with the Nautilus staff, Member Agents present their clients with state-of-the-art planning strategies and customized case analyses designed to meet the clients' complex objectives. The one-on-one case design process used by Nautilus is tailored to the unique requirements of each client, achieving a better understanding of the complex needs and goals of each individual.
The Nautilus Group® is located in Dallas, TX and is staffed by an elite team of professionals experienced in law, taxation, accounting, business, insurance, finance and philanthropic planning. This team provides dedicated support for Nautilus Member Agents, an elite group of experienced insurance and financial industry leaders, firmly committed to a team planning concept.
The Nautilus Group® is a service of New York Life Insurance Company. Neither The Nautilus Group®, its member agents, nor its staff provide tax, legal or accounting advice. Clients are urged to seek the advice of their own professional advisors before implementing any planning strategies.
One thing our clients appreciate about working with us is that we don't believe in cookie-cutter financial services or a one-size-fits-all approach. Instead, we follow a meticulous process designed to help get to know each client's situation, goals and level of risk tolerance so that we can make appropriate recommendations to meet their needs. Everyone is different and we may amend our approach to suit a specific client, but in general, we utilize the following process to help those we're privileged to serve.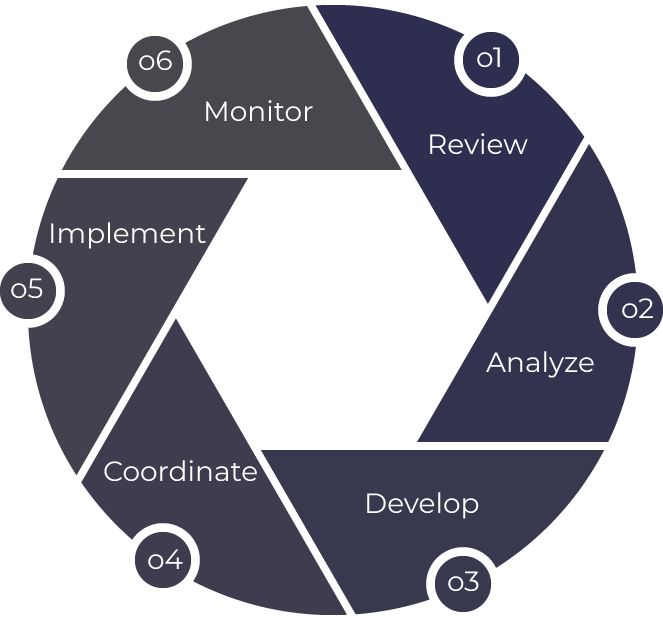 Step 1: Review
Review your individual situation and personal objectives. Every family's financial situation is unique. That's why it's so important to find out as much as we can about you and your financial goals. The more we know about you, the more precise recommendations we can make and the more we can help you. As a result, we may take some time to discuss your hopes, dreams and objectives, and the things that really matter to you. This is the basis for the first meeting with anyone we sit down with.
Step 2: Analyze
Analyze and review your needs. As needed, we will work with you to identify and prioritize your objectives, and then help establish benchmark goals. This is important because we live in a world of unlimited choices. People often fail to achieve objectives because they try to accomplish too much at once, or they don't attach specific deadlines to their goals. By breaking down your goals to specific objectives, you can look at available resources and decide which goals are realistic, which need to be adjusted and scaled down, and which simply must be abandoned.
Step 3: Develop
Develop and implement a strategy to help you achieve your goals. Based on our conversation and analysis, we can recommend the steps that it will take to help you achieve your financial goals.
Step 4: Coordinate
Coordinate your financial activities. We regularly coordinate insurance and financial activities for clients with the other members of their team of financial, tax and legal advisors. We can do the same for you.
Step 5: Implement
We'll implement your strategy, and work closely with you and your other third party professionals to ensure its success. We'll monitor progress and provide ongoing service as your needs and situation change over time.
Step 6: Monitor
Planning is not a one-shot deal. Strategies need to be adjusted periodically as your life and the economy changes. We will work with you over the years to help keep your program on track with your changing needs.